Amateur Radio SE Michigan

First be aware
Freedom Isn't Free

There are many working on taking yours away. Keep Informed. Be vigilant. Be Prepared. Support our Constitution and our Rights. We support Freedom of Speech and Media. This includes being able to criticize anything.


Abundance For All How to Make It Happen We could have Health Care with lower costs.


Make The Golden Rule the expectation and standard of human conduct.

Don't do to others what you would not want done to yourself.



Here is an important video of

Something You Need to Know Humans need not apply.





Radios often use LI-ion and Li-PO batteries


These are usually safe but if you notice one SWELLING, MOVE IT OUTSIDE IMMEDIATELY AND LEAVE IT THERE. Take it out of your radio or phone and leave the battery outside at least four feet from anything burnable. Also do this if the battery gets very hot. They can explode with deadly fumes and a fireball 3 feet in diameter. This fire cannot be extinguished with ordinary fire extinguishers because it is self fueled.
Best is to keep a bag of play sand handy to put on top of it after it is put outside. They can be picked up with a couple of frying pans, or pots. It is a good idea to charge these batteries in a ceramic pot or mug because if they burn they can be transported outside while being safely contained. It is best to avoid charging batteries in vehicles.
Li-ion fire LiPO Spontaneously catches fire

Get specialty items from local vendors
Remember the Magic Eye



LOCAL MICHIGAN VENDORS:


BatteriesShack Batteries for Everything 586 580 2893 Batteries Shack web site
44478 Mound Rd Sterling Heights MI 48314 E-mail: info@batteriesshack.com

Roger D Webster W8QFX@aol.com WEBSTER COMMUNICATIONS
ANTENNAS BATTERIES CONNECTORS WATTMETERS
11 Bellarmine Rochester MI 48309
800 521 2333 fax 248 375 0121

N8LOU Louie Stamper n8lou@arrl.net 989 513 0823

RF Adapter Guy www.adapterguy.com sales@adapterguy.com

HFWIREANTENNAS.CO sales@hfwireantennas.co

Amateur Radio Repair jeff@jse.repair.com www.jse-repair.com 5544 Coldwater Rd Columbiaville MI 48421 www.facebook.com/JSERepair/ 810 895 1408
Terry Selman KE8KD terrylselman@gmail.com 324 890 7919

Silicon Alley Recyclers Refurbished Commercial Grade Electronics
24836 Ryan just S of 10 Mile next to and south of Wendy's at 10 Mile on Ryan Warren Mi


Open Saturdays 2-6 PM otherwise by appointment 248 613 1419



Get a nice quality reliable computer for

$69 and up.




name brands HP, Compaq, Dell, IBM.

Laptops from $79.

LCD Screens from $24
Visit showroom. This guy gets these good machines from businesses who write them off. All are redone, checked out have new Windows, Open office and Anti Virus programs installed. These are good quality machines. He also has other electronics like printers at low prices. I got a laser printer for $50. Each cartridge gives me thousands of copies. Sometimes he has those for $5.
Our Facebook page




The following is a FREE Ham Radio information site Ham Universe.com

The following are commerical businesses:
Abel Electronics is a local Michigan business located 4 blocks S of 11 Mile on 27201 Harper in St Clair Shores MI 48081
586 777 8232 Store hours M & Thr 9-7, Tu, Wed, Fri 9-6, Sat 9-5.
They have Amateur radio cables and a store full of electronics and parts. See their online catalog.
Abel Electronics.com


DX Engineering I keep hearing that this place is a good source. Look at their pages. WOW! It appears that they have things that are not found elsewhere.


eHam.net ham radio on the net Lots of things on this website including classifieds
eham.net
amazon.com
Radio Shack
Bang Good Bang Good is a Chinese Amazon but with the cheapest prices. Quality is fair to good. They have free shipping by slow boat paddled by rodents sometimes taking 2 months. They also have 1 week air shipping. Note it is always better to try to buy from local American businesses because you support American jobs, you usually get reliable quality and if you have a problem you don't have to travel to China to resolve it. On the positive side several of us including myself have received good products for low prices.





Local South East MICHIGAN CLUBS
They even have strippers and swap meets. See picture below.



Hazel Park Amateur Radio Club

Meetings of the Hazel Park Amateur Radio Club are held on second Wednesday of month at 7:30 PM. Socializing starts around 7:00 PM. We meet at UFCW Hall, 876 Horace Brown Dr, Madison Heights. The location is south of 13 Mile Rd, between John R and the I-75 freeway. Turn south at the stoplight at Barrington St, then just before the dead end sign, turn right onto Horace Brown Dr. Parking is in the first lot on the left. Enter the building on the east side.
Most meetings feature an entertaining technical presentation covering some aspect of amateur radio followed by socializing over coffee and donuts, and then a short session of club business. Ample parking is available. Handicapped parking is for those with handicapped permits only.
See the club website for exact dates and more information HPARC web site

Buddy Breakfast every Saturday at 9:00 AM at:
Star Family Dining
26623 John R Rd
Madison Heights, MI 48071
Weekly Sunday net at 9 PM on 146.64 MHz DART repeater




General Motors Amateur Radio Club

The GM Amateur Radio Club meets the third Tuesday of the month (except July & August) at 7:00 PM, at the Packard Proving Grounds
49965 Van Dyke Avenue
Shelby Township, MI 48317
[Between 22 Mile & 23 Mile Roads]

GMARC Breakfast @ Sero's Restaurant Saturdays @ 9:30 am – 10:30 am
GMARC web site




Utica Shelby Emergency Communication Association
USECA web site
USECA General meetings occur at 7:30pm on the second Monday of each month of September through June at the Elks Lodge at 179 S. Main in Mount Clemens. Frequently, the meeting is preceeded at 6pm by either food or a hidden transmitter hunt, sometimes both. Usually at each meeting there is a new informative presentation covering topics such as antenna regulation, sunspot cycles, antenna construction, etc. Tune in the repeater for current information. All are welcome.
USECA is affiliated with the ARRL and is a Special Service Club. We hold regular VE Testing in the Mt. Clemens area and work with organizations like: RACES, ARES, Skywarn, March of Dimes, and SATERN. We also have a LOT OF FUN! Club members regularly organize camp-outs, boating excursions, QRP expeditions, "fox" hunts (hidden transmitter), phone and CW nets, and bicycle rides. USECA is well known for our repeater system. The main (transmitter) site is located at the Packer prooving grounds in Shelby Charter Township, MI.and we have remote receive sites located throughout the area to provide handheld Radio (HT) level coverage throughout Macomb County. Our repeater is known as the "friendliest repeater in town", and can be found on a frequency of 147.180 MHz (+600 offset), and can be accessed by use of a 100 Hz CTCSS tone. Our mailing address is: P.O. Box 46331, Mt. Clemens, MI 48046.




L'ANSE CREUSE AMATEUR RADIO CLUB



The Tuned Circuit Monthly Bulletin of the L'Anse Creuse Amateur Radio Club
L'Anse Creuse Amateur Radio Club
P.O. Box 180072
Utica, MI 48318
LCARC Web Site
http://www.n8lc.org
E-mail: info@n8lc.org
The L'Anse Creuse Amateur Radio Club meets at 7:00 pm the first Wednesday of each month, except during July and August.
Meetings are held at Tucker Senior Center located at 26980 Ballard St, Harrison Township, MI 48045 unless indicated otherwise
in the most current issue of the Tuned Circuit. Call-in on the Echo Repeater (N8LC) on 147.08 MHz (+ 600 KHz, 100 Hz PL tone) for any meeting information, or to ask a member for the location of the meeting
L'Anse Creuse Amateur Radio Club web site




National Association for Amateur Radio (ARRL)

ARRL
Michigan ARRL site Michigan ARRL site

MORE CLUBS FIND A CLUB





ISS crew schedule We communicate with the International Space Station

ISS

We are helping to improve things and helping young people learn useful things. We help in emergencies. Professor Wesley who put up this page teaches technology at a local college. Many of us are scout leaders. We also teach Emergency preparedness, First Aid, and the young people both boys and girls learn leadership skills.




FREE CLASSES FOR ALL THOSE WISHING TO LEARN ABOUT RADIO AND ELECTRONICS These are offered by each club and online.




Exams usually cost $15 and are scheduled monthly in several places. Your local clubs have dates and times.




EVENTS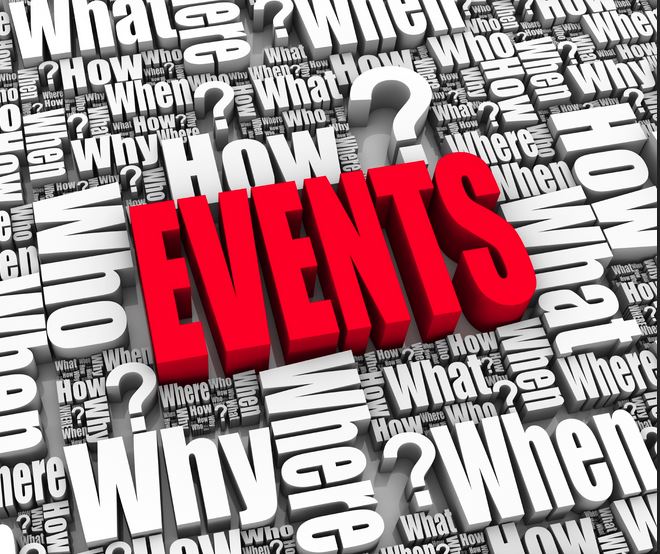 Very Graphic Video of some events Many of us are weather spotters. But I am still waiting for my armored vehicle and helmet.




Many clubs have weekly Breakfasts.

This is a good way to meet people and find out things. See above clubs for times and places.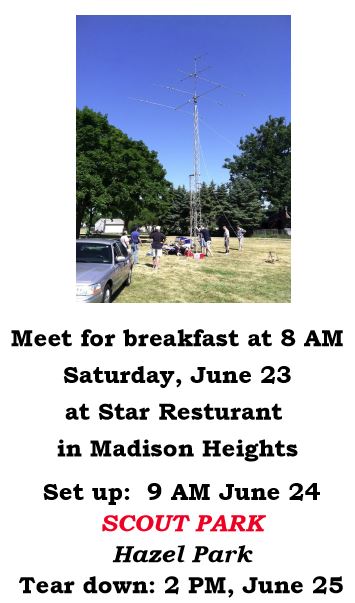 Cadillac Amateur Swap Sat May 5 2018
Cadillac Junior High 500 Chestnur St
see http://www.wexaukeearc.org/ for more info

Walmart Parking Lots on the Air
WMPLOTA is a special event and award scheme for amateur radio satellite operators that encourages the practice of portable operation in the ubiqitous and easily accessible location of Walmart parking lots.

Be safe and operate in a way to that is in no way impactful to the Walmart store or its customers. Participation in WMPLOTA, just like SOTA, is at your own risk.

Follow us on Twitter @WMPLOTA and post using hashtag #WMPLOTA!

05/05/2018 Cadillac Hamfest Location: Cadillac, MI
Sponsor: Wexaukee Amateur Radio Club Website: http://www.wexaukeearc.org

05/18/2018 2018 Dayton Hamvention Xenia, OH ARRL Hamfest
Sponsor: Dayton Amateur Radio Association Website: http://www.hamvention.org

06/03/2018 Chelsea Amateur Radio Swapmeet Location: Chelsea, MI
Sponsor: Chelsea Amateur Radio Club Website: http://wd8iel.com

06/16/2018 Midland ARC Hamfest Location: Midland, MI Midland Amateur Radio Club (W8KEA) Website: http://www.w8kea.org

06/17/2018 Monroe Hamfest Location: Monroe, MI Sponsor: Monroe County Radio Communications Association Website: http://www.mcrca.org

07/21/2018 Gladwin Area ARC Hamfest Gladwin, MI Gladwin Area Amateur Radio Club

07/28/2018 Central Michigan ARC Hamfest Location: Lansing, MI Sponsor: Central Michigan Amateur Radio Club Website: http://www.centralmiarc.com/outdoorhamfest.php


Possible Summer FIELD DAY
visit to the Metamora Hadley Recreation Area
in Lapeer county. Unlike previous years, the crew TO set up in the south campground
Send me listings of events so I can put them up here
Send me your suggestions for what you want here.
wecare@dogoodforall.today



PAST EVENTS just so new folks have an idea of what we do.

March 2018
Hazel Park Swap Meet

04/29/2018 1st Annual GMARC Swap & Shop




WINTER FIELD DAY 2018
2:00 pm EST Saturday January 27th thru 2:00 pm EST Sunday January 28th
Location: Camp OZANAM, 7303 Walker Rd, Carsonville, MI.

USECA had a Christmas Party

December 16, 2017, (Saturday) 6:00pm 31st Annual C h r i s t m a s Party
Loacation: HIBACHI BUFFET next to Walmart at 14-mile at 33431 VanDyke in Sterling Hts., Mi.




Many of us in Amateur Radio are strippers.


You can be a stripper also if you want to be.





Radio Nets are online Meet-Ups

WORLD FRIENDSHIP NET
TIME - 5 PM PST - 8 PM EST
ON *WORLD* CONF SVR / IRLP 9251

Monday **- KM4OOC -Mike -
Special Check ins from WB0QXW - St. Louis Connects
Tuesday - Guest Controllers ## Trying out newbies with "Pass the Mike"

Wednesday - W2JLD John
Ham radio trivia question

Thursday - KD8TBC -Lee
"TECH NET"- GENERAL CLASS QUESTION POOL

Friday** - W8MRW - Roy

Saturday - W7AWN Phil
Car Talk with Phil

Sunday no World net
Website of World Friendship Net is World Friendship Net web site

The Hazel Park Amateur Radio Club has a net Sunday night on 2-meter. Starts at 9 PM ET on the DART repeater, 146.640 (100 Hz PL). This net is used to catch members up with club news and information and just to keep in touch. The net continues throughout the summer. W8HP W8JXU

The General Motors Amateur Radio Club operates two repeaters from the top of the General Motors Corporate Headquarters building in downtown Detroit. VHF: 145.210 MHz- 123Hz pl. UHF: 443.075 MHz+ 123Hz pl
Also GMARC also operates EchoLink® node number: WW8GM (99846)

GMARV Net Schedule on 443.075 MHz is:
GMARC Information Net Monday at 8:00pm
Technology Round Table Net Tuesday at 8:00pm
YL Ladies Net Thursday at 8:00pm
Guild Fellowship Net Friday at 5:00pm
Amateur Radio News Line Saturdays at 9:00pm
Amateur Radio News Line web site
Trivia Net 1st Monday of the month at 8:00pm
GM HF Net Mon thru Sat 1:00pm
(HF 7,277.5 KHz)

Utica Shelby Emergency Communication Association
The following USECA nets occur on the K8UO repeater: K8UO 147.180 100Hz CTCSS
K8UO 444.775 (UHF Fusion) 123Hz PL for Analog Access
Day Time Net
Sun 1:00 pm Information
Sun 7:00 pm Traders/Tech Support
Sat 11:00 pm Hoot Owl Net

The following USECA nets occur elsewhere:
Day Time Net Frequency / Mode Info
Tue 2300 UTC 75m Phone 3.830 (+ or - qrm) / LSB
Wed 7:00 pm 6m Phone 50.145 / USB
Thu 7:00 pm Fusion 444.775 / Digital
Thu 9:00 pm 15m CW 21.140 / CW
Fri 9:00 pm 80m CW 3.570+/- / CW
Fri 10:00 pm 10m Phone 28.425 / USB


L'Anse Creuse Nets

Online Nets Online nets

Friends Ham Radio Network

Repeaters around the USA Find a travel repeater for your trips



How to be independent and protected from power outages.


For the last 2 years I have been paying less on my electric bill and am never without sufficient power to do the most important things around the home.
I made a 2x4 stand and set up several 100 watt solar panels on the south side of my house. These panels capture free energy from the sun every day, even on cloudy days and send it to storage batteries. For around $200 total you can get the following which is adequate to run a TV, laptop computer, lights and charge up your electronics. A solar panel (I recommend at least 100 watts see http://homedepot.com for starters), a large deep cell battery, a charge controller, and a simple set of wires.

That is not much money to always have light, be always able to charge your phones, have use of a laptop or tablet computer and have TV.

Our street has been without power over a dozen times and we are the only one on the street to always have TVs, computers and lights. You could even use used car batteries which can be had sometimes for free or $20. They can be a good source of power but not as good as a new deep cell battery. Even your lawn tractor battery will do in a pinch. One solar panel can actually charge up several batteries.

If you have camping equipment you can plug lights directly into DC sockets. Klien's sells a DC poweed fan. There are DC adapters to run many electronic items directly from DC. Your battery also can charge up those wonderful portable Lithium battery powered lights and devices for free.

To run AC powered items you will need an inverter which costs from $19-49 for one adequate to do most small TVs, computers, and other electronics.
LED light bulbs are really efficient and last over 10 years. There are LED lights that use under 6 watts. There are LED bulbs that put out the equivalent light as a 50 watt bulb but only use 8 watts. You can have a lights on in several rooms that combined use less power than one 60 watt tungston bulb. All this is powered by free solar power which is renewed every day for free. And you are paying no taxes or fees on that power.

The greatest thing is you are no longer dependent on the grid. You always have free power.

I can use my HT of course and charge it and its spare battery. Your mobile can run for many hours on your deep cell battery. Your regular fancy radio will not have any noise issues because there is no noisy generator with static electricity. And there is no generator noise or fumes. Solar power is silent and free. You can help in emergencies because your home base always has power as does your mobile whether it is used at home on in the vehicle.

SO FREE SOLAR POWER IS A WIN WIN FOR ALL. see free solar power for more information